(Please bookmark this site (Ctrl+D) before leaving)
Your browser does not support JavaScript or JavaScript was disabled! Some features on this site require JavaScript, your experience will be limited. Please upgrade your browser or enable JavaScript to get the full experience.
Affiliate Program
The Escort industry business is exciting, fun and profitable. If you have an interest in the escort industry, but you don't want to become an escort or escort agency owner, you can still make money by signing up as an affiliate of our company.
We respect ALL affiliates, as we feel that makes you part of our marketing team.
We have a lot of different products & services you can promote, especially on The Escort Law Review.
Michelle
Exotic Publishing
Note: Please make sure you check your spam or trash/delete folders for any e-mail coming from us and make sure you put exoticpublishing.com on your whitelist, friend's list, or whatever list you or your hosting/ISP have to make sure you get all our e-mail.
Get started now with Exotic Publishing's Affiliate Program »
What does an affiliate program involve?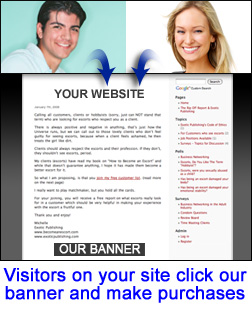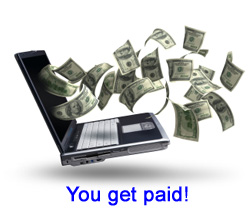 We supply you with text ads and banners which you advertise on your website, in e-mails, by word of mouth, on forums, etc. (NO spam allowed!)
Once someone clicks on any of the banners or ads you placed, they are directed to one of OUR websites:
www.exoticpublishing.com
www,becomeanescort.com
www.escortlawreview.com

If they purchase any of our products, we track them from you through your unique affiliate code and that's when you make 10% commission which is your tier 1. The more you sell in one month, the higher you go up the ladder and the more money you make.

While tier 1 may seem slightly low compared to other affiliate programs, it is NOT & here's why:

a) if you make just ONE sale on Exotic Publishing, you make $60 if they pay in full for the Platinum Mentorship Package. That's because our one-of-a-kind business kits are priced higher than other e-books or books.

b) if you are selling the "How to Become a Successful Escort" business kit, you make an easy $9 per sale.

c) the more you sell in a 30 day period, the higher your commission rate will become. The commission table is sent to you once you sign up and are approved to sell our products.

d) as we develop more products & services, you can sell those too so you aren't stuck selling only one product.
After you accumulate a minimum of $50, we send you a monthly check.
If someone signs up underneath you and also sells, you get 5% of their sales too!

Nothing could be easier!
The best part is you are not competing with thousands of other affiliates selling the same product or service. What we offer are unique business kits and legal products and services for the escort industry that many people are willing to pay top dollar for.
You'll be provided with login information to to get access to banners, and text ads you can place on your site.
Once you are signed up and ready to go, you can track your clicks and sales via our affiliate program software. We supply you with everything you need to make your association in the affiliate program successful.
So sign up today » and start promoting!
Now is the time for you make money and prosper, especially in this economy when people are looking for business opportunities.
I also have another money making adult affiliate oppotunity for you if you think you can find girls and guys who want to be paid to do webcam work.
You can also make money signing up guys who want to be customers. Just click on the banner below, sign up, then e-mail me if you need help to get yourself started.
Exotic Publishing
Updated 31-May-11